Traffic access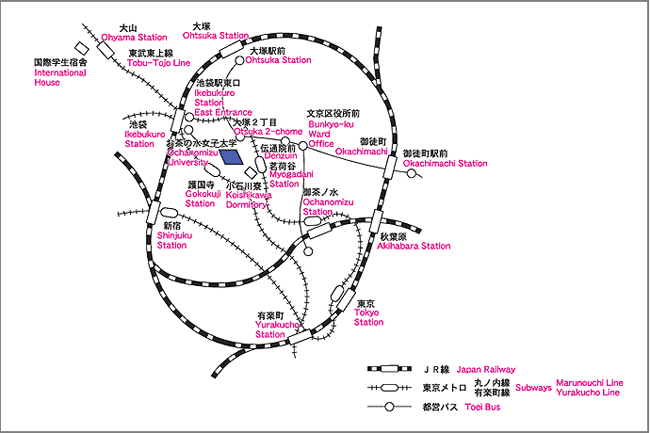 Closest bus stop - Otsuka 2-chome
Closest Marunouchi Line Stop - Myogadani Station (7 min. walk)
Closest Yurakucho Line Stop - Gokokuji Station (8 min. walk)
 Accommodation
For accommodation during your stay in Tokyo, you participants are requested to book a room by yourselves. We suggest the Toyoko-Inn, Tokyo Korakuen Bunkyokuyakusho Mae, which is situated in the vicinity of the conference site and provides you with a clean and safe accommodation with reasonable price *about 7500 yen for a single room per night(.  We refer you to the hotel web page
http://www.toyoko-inn.com/e_hotel/00081/index.html

You can find there English, Chinese, Japanese and Korean pages.
N.B. You can book a room at the hotel 3 months prior to your stay *May 25, 2014(.
The closest subway station of the hotel is Korakuen Station on Marunouchi Subway Line, while the closest subway station of Ochanomizu University (conference site) is Myogadani Station on the same subway line.
Public Transportation
Public transportation (for example, subway) is very convenient for travel within Tokyo.  The distance between the conference site and the hotel is just one ride of Marunouchi Subway Line.  There are two international air port in Tokyo, Narita and Haneda, which are both connected to the hotel by public transformation.  Please refer the web page of the hotel.